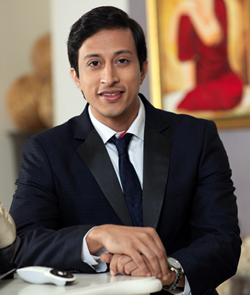 Dr. Shumayou Dutta heads the Neck and Spine Clinic as a consultant spine surgeon at Medical Superspeciality Hospital, Kolkata, one of the largest hospitals in Eastern India. He is vastly trained in spine surgery, having worked in some of the top spine surgery centers across the globe such as Hospital for Special Surgery USA, Bombay Hospital Mumbai, St Vincent Hospital Korea, Indian Spine Injury Centre Delhi, Nanoori Hospital Korea and Ganga Hospital Coimbatore.
Dr. Shumayou Dutta is one of the pioneers of Minimally Invasive Spine Surgery in Kolkata. His special interests are Minimally Invasive Spinal Surgery, Deformity Correction, Artificial Disc Replacement, etc. He has received several highly acclaimed international awards in spine surgery such as The SRS-Global Outreach Scholarship Award 2020, the Asia Pacific Spine Society–SICOT Travelling fellowship Award 2020, The 'Patrick Kluger Best Published Paper' in Europe and Asia 2018, the 'Best Spine Reconstruction Award' in USA 2018, the IASA Spine Fellowship Award in USA 2018, the 'ASSI Inland Travelling Fellowship Award' 2017, the 'PS Ramani Best Paper (Gold-Medal) Award' by NSSA (National Neuro-Spine Association) 2016, 'International Best Poster Award' (Gold-Medal) by APCSS (Asia Pacific Cervical Spine Society) Korea 2016 and the 'VTI Best Paper' Silver Medal at ASSICON-2016 and 2017.
He has 11 scientific research papers published in the most prestigious international spine journals. He has also contributed 3 chapters to various Orthopaedics Text Books. He is one of the few selected members on the review board of the esteemed international journal 'Spine'.
Dr. Shumayou Dutta has demonstrated MISS (Minimally Invasive Spine Surgery) techniques with eminent Spine Surgeons such as Dr. Larry Khoo (President of North American Spine Society), Dr. CE Deopujari (President of Indian Neurosurgery Society) and Dr. Neel Anand (Director MIS Spine surgery, Cedars Sinai Hospital, Los Angeles) at Live Operative Courses/ Conferences within India and abroad. He is one a handful of few surgeons in the country who is trained in the advanced spine surgery techniques of Navigation and Robotics assisted Spine Surgery.
Awards And Achievements
Publications And Scientific Paper Presentations
International Paper Publications in Peer Reviewed Journals
Dutta S, Kundnani V, Dusad T and Patel A. Feasibility And Outcome Of Stand-Alone Trans-Articular Screw Fixation In Atlanto-Axial Instability In Children Less Than 8years Of Age. European Spine Journal 2018. May 2018, Volume 27, Issue 6, pp 1342 – 1348. DOI: 10.1007/s00586-018-5510-7
Dusad T, Kundnani V, Dutta S. Comparative prospective study reporting intra-operative parameters, pedicle screw perforation and radiation exposure in Navigation guided MIS-TLIF versus Non navigated fluoroscopy assisted MIS-TLIF. Asian Spine Journal. 2018;12(2):309-316. DOI: https://doi.org/10.4184/asj.2018.12.2.309
Dusad T, Kundnani V, Dutta S, Patel A, Mehta G, Singh M. Minimally Invasive Microscope-Assisted Stand-Alone Transarticular Screw Fixation without Gallie Supplementation in the Management of Mobile Atlantoaxial Instability. Asian Spine Journal. 2018;12(4):710-719. DOI: https://doi.org/10.31616/asj.2018.12.4.710
Dutta S, Kulkarni A. A novel technique to instrument proximal and distal clinical adjacent segment pathology. J Minim Invasive Spine Surg Tech. 2017;2(1):44-46. doi: https://doi.org/10.21182/jmisst.2017.00164
Dusad T, Kundnani V, Dutta S, Patel A, Mehta G, Singh M. An unusual case of intradural intramedullary dorsal bronchogenic cyst in the spine. Case Report. Journal of Spine Surgery 2017. 3. 514-518. Doi: 10.21037/jss.2017.08.10
Kulkarni AG, Patel RS, Dutta S, Patil V. Stand-alone lateral recess decompression without discectomy in patients presenting with claudicant radicular pain with MRI evidence of lateral recess stenosis secondary to lumbar disc herniation. Spine (Phila Pa 1976). 2017 Jul 1;42(13):984-991. https://doi.org/10.1097/BRS.0000000000001944
Kulkarni A, Dutta S, Dhruv A, Bassi A. Should we label all synovial cysts as unstable? Global Spine Journal. 2017, Volume: 7 issue: 7, page(s): 629-635 doi: https://doi.org/10.1177/2192568217700103
Kulkarni AG, Patel RS, Dutta S. Does Minimally Invasive Spine Surgery Minimize Surgical Site Infections? Asian Spine J. 2016 Dec;10(6):1000-1006. https://doi.org/10.4184/asj.2016.10.6.1000
Dutta S, Bhave A, Patil S. Correlation of 1.5 Tesla Magnetic Resonance Imaging with Clinical and Intraoperative Findings for Lumbar Disc Herniation. Asian Spine J. 2016 Dec;10(6):1115-1121. https://doi.org/10.4184/asj.2016.10.6.1115
A.Kulkarni, T. Kunder and Dr Shumayou Dutta. Degenerative Spondylolisthesis. When to Fuse and When Not to? A New Scoring System. Clin Spine Surg 2020 Mar 16
doi: 10.1097/BSD.0000000000000970
Faculty Invitations
Delivered talk on complex cranio-vertebral fixation methods at APSS-BSS 2020
Oration on MIS in Spine Surgery at Dibrugarh Orthopaedic Society Meet 2018
Bombay Operative Spine Course 2017
Asia Pacific Cervical Spine Society Conference Nov 2016, Seoul
Live MIS workshop at Institute of Neurosurgical Sciences, Invited by Bangladesh Society of Neurosurgeons, Dhaka 2016
Bombay Operative Spine Course 2016
Bombay Operative Spine Course 2015